The Zintra™ Acoustic Baffle Systems are an easy to install replacement to standard ceiling tile systems. Zintra™ Acoustic Baffles are an aesthetically pleasing and high performance ceiling solution that provides exceptional noise reduction. Zintra™ Acoustic Baffles are ideally suited for large noisy spaces in education, institutional, retail, restaurants and airport projects.
FEATURES
Comes complete with hardware to install Zintra™ Acoustic 1/2" baffles
Easy to install ceiling solution
NRC = 0.90
Customizable size, baffle spacing and baffle depth
Creates a unique texture and aesthetic for ceilings
Create custom designs and shapes
Flat packed for cost effective transport
SPECIFICATIONS
CONTENT
100% Polyester
ACOUSTIC RATING
0.90 NRC
BAFFLE DEPTH
5 1/2" / 140mm or 10" / 254mm
SIZE
4' x 4' / 1220mm x 1220mm & 4' x 9' / 1220mm x 2745mm
PACKAGE INCLUDES
Pre-assembled aluminum frame cross runners, pop-riveted to tapered channel.
Pre-cut Zintra™ Acoustic Panels.
Aluminium frame connectors & end caps.
Complete hanging hardware including 5'/ 1525 mm of aircraft wire and adjustable hardware.
See Clouds Specification for detail.
FRAME COLOURS
Clear satin aluminum or in black or white.
BAFFLE COLOURS
16 standard colors.
BAFFLE THICKNESS
1/2" / 12mm (1" thick option available)
INSTALLATION
Insert pre-cut Zintra™ Acoustic 1/2" lengths into each tapered channel.
Install frame direct to ceiling substrate or hang via aircraft wire (provided).
FIRE RATING
In accordance with ASTM-E84, Zintra™ Acoustic 1/2" Panels achieve a Class A Flame Spread - passes CAN ULC S102-10.
CARE INSTRUCTIONS
Vacuum to remove dust.
Remove spills immediately using a clean damp cloth or with soap and water.
Carpet and fabric cleaners can be used - always test an inconspicuous area first.
Stain repellant coating available for additional protection.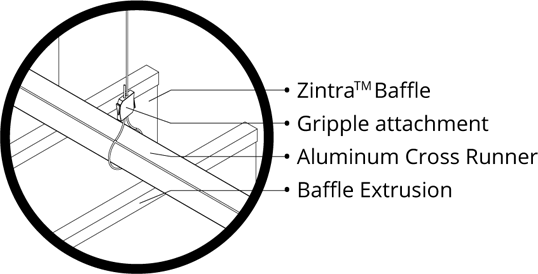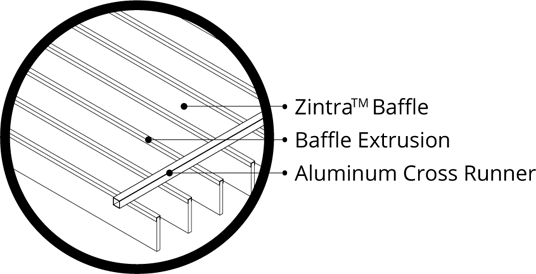 STANDARD BAFFLE OPTIONS
Size 4'x4' and 4'x9'
DRAWINGS/PDF
SQUARE

5.5" Square
48x48
108x48
10" Square
48x48
108x48
5.5" Square
10" Square
BOLT

5.5" Bolt
48x48
108x48
10" Bolt
48x48
108x48
5.5" Bolt
10" Bolt
RIDGE

5.5" Ridge
48x48
108x48
10" Ridge
48x48
108x48
5.5" Ridge
10" Ridge
SWELL

5.5" Swell
48x48
108x48
10" Swell
48x48
108x48
5.5" Swell
10" Swell
CANYON

10" Canyon A
48x48
108x48
10" Canyon B
48x48
108x48
© 2023 Crown Surface Solutions