The perfect solution for your application where sound reduction as well aesthetics are required. Zintra's™ wide range of colors and ease of use make it the ideal material for commercial, hospitality, educational and institutional projects.
FEATURES
Cost effective sound absorbing solution ranging between 0.45-0.90 NRC
9' long panels ideal for joint-free floor to ceiling applications
Broad range of neutral and bright colors
Suitable for a multitude of applications - walls, ceilings, screens, partitions, millwork
Easily fabricated and installed
Color is uniform through entire thickness
Tackable
Digitally printable
SPECIFICATIONS
CONTENT
100% Polyester
ACOUSTIC RATING
0.45-0.90 NRC
PANEL SIZE
4' x 9' x 1/2" / 1220mm x 2745mm x 12mm
SURFACE FINISH
Matte
WEIGHT
0.5 lb / ft2 / 2.4 kg / m2
COLORS
16 standard colors.
APPLICATION
Indoor areas only.
FABRICATION
Utility knife or CNC with oscillating knife.
INSTALLATION
Adhere to substrate with adhesive.
Attach with screws, Z-clips, nails, stand-offs or with aluminum trim or millwork.
FIRE RATING
In accordance with ASTM-E84, Zintra™ Acoustic 1/2" Panels achieve a Class A Flame Spread - passes CAN ULC S102-10.
CARE INSTRUCTIONS
Vacuum to remove dust.
Remove spills immediately using a clean damp cloth or with soap and water.
Carpet and fabric cleaners can be used - always test an inconspicuous area first.
Stain repellant coating available for additional protection.
OPTIONAL TRIMS

NRC COMPARISON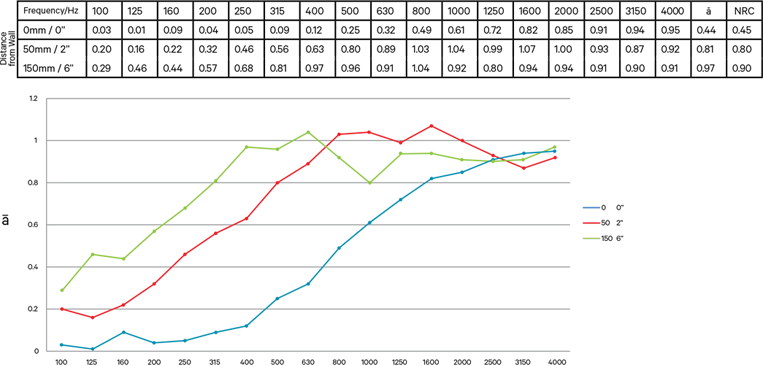 Frequency(Hz)
© 2017 Crown Surface Solutions